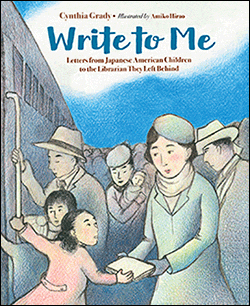 Write to Me: Letters from Japanese American Children  to the Librarian They Left Behind 
Illustrated by Amiko Hirao
A touching story about Japanese American children who corresponded with their beloved librarian while they were imprisoned in World War II internment camps.
When Executive Order 9066 is enacted after the attack at Pearl Harbor, children's librarian Clara Breed's young Japanese American patrons are to be imprisoned in the desert. Before they are moved, Miss Breed asks the children to write her letters and gives them books to take with them. Through the three years of their internment, the children correspond with Miss Breed, sharing their stories, providing feedback on books, and creating a record of their experiences. Using excerpts from children's letters held at the Japanese American National Museum, author Cynthia Grady presents a difficult subject with honesty and hope.
". . . moving story . . . full of warmth . . . A beautiful picture book for sharing and discussing with older children as well as the primary audience."
"... affecting introduction to a distressing chapter in U.S. history and a brave librarian who inspired hope ...."
"Many pages include quotes from the children's correspondence, now archived at the Japanese American National Museum, which testify to the power of literature to make life more bearable."
"Grady's librarian expertise is evident throughout, from the black-and-white photos that begin and end her book, to her illuminating author's note, timeline, historical overview, and additional resources that go well beyond Miss Breed's story. Meanwhile, Japanese-born, Rhode Island School of Design-trained artist Amiko Hirao's soft illustrations both welcome and expose, sharing experiences and bearing witness."
2020, One Book One San Diego Children's Book Selection.
2019, Jefferson Cup, Children's Biography, Virginia Library Association.
2019, Social Justice Award, International Literacy Association.
2019, Notable Social Studies Trade Books for Young People, NCSS.
2019, Bank Street College of Education, Best Children's Books of the Year.
2019, Nominated, Ezra Jack Keats Award for Picture Book Text.
2019, A Mighty Girl pick.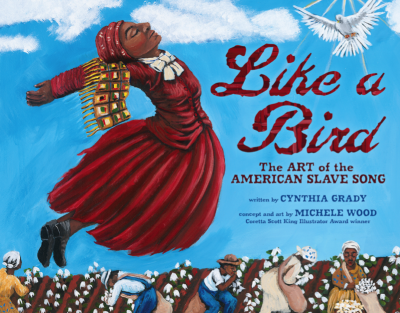 Millbrook Press/Lerner Publishing Group ISBN: 978-1-4677-8550-1
Like a Bird: The Art of the American Slave Song
Illustrated by Michele Wood
Enslaved African Americans longed for freedom, and that longing took many forms–including music. Drawing on biblical imagery, slave songs both expressed the sorrow of life in bondage and offered a rallying cry for the spirit.

Like a Bird brings together text, music, and illustrations by Coretta Scott King Award-winning illustrator Michele Wood to convey the rich meaning behind thirteen of these powerful songs.
"This is an excellent resource for music and art teachers as well as for social studies and U.S. history lessons."
"An important work that gives new life to old and important songs."
"Each paragraph invites readers to notice themes in the paintings . . . and raises questions to encourage critical engagement with the text."
NYPL's Children's Books 2016: 100 Books for Reading and Sharing List
New Mexico Land of Enchantment Book Award 2017-2018
Cooperative Children's Book Center: CCBC Choices 2017
2017, Bank Street College of Education, The Best Children's Books of the Year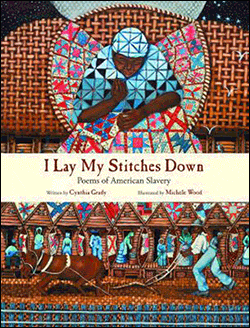 Eerdmans ISBN 978-0-8028-5386-8
I Lay My Stitches Down: Poems of American Slavery
Illustrated by Michelle Wood
This rich and intricate collection of poems chronicles the various experiences of American slaves. Drawn together through imagery drawn from quilting and fiber arts, each poem is spoken from a different perspective: a house slave, a mother losing her daughter to the auction block, a blacksmith, a slave fleeing on the Underground Railroad.

This moving and eloquent set of poems, brought to life by vivid and colorful artwork from Michele Wood, offers a timeless witness to the hardship endured by America's slaves. Each poem is supplemented by a historical note.
"A powerful grouping of thought-provoking poems and brilliantly designed paintings."
"This ambitious work offers a bit of poetry, history, folk art, quilting, religion and more. It will definitely fill a niche in libraries."
"Altogether, a stunning achievement ..."
"... deeply impressive, as seamless as it is stirring."
"[A] stunning collection ... The result is breathtaking."
Finalist, 2013 PEN/Steven Kroll Award for Picture Book Writing
2013, Bank Street College of Education, The Best Children's Books of the Year
2013 NCTE Notable Children's Books in the Language Arts
2013 Gold Nautilus Award
NYPL's Children's Books 2012: 100 Books for Reading and Sharing List
2013 Notable Books for a Global Society Award
2013 Notable Social Studies Trade Books for Young People
Capitol Choices Noteworthy Books for Children and Teens
Cooperative Children's Book Center: CCBC Choices 2013; Poetry Essentials
Parent's Choice Silver Honor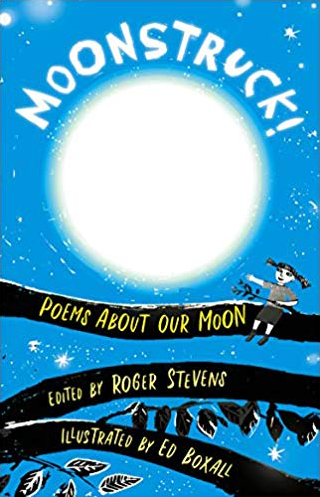 Moonstruck! Poems about Our Moon
Edited by Roger Stevens; illustrated by Ed Boxall
Otter-Barry Books; ISBN: 978-1910959787
A young reader' anthology of moon poems to celebrate the 50th anniversary of the first moon landing. Popular American writers of poetry for children are represented, including Eric Ode, Cynthia Grady, BJ Lee and Robert Schechter. 20 new poems about the moon from well-known and up-and-coming poets are combined with 20 classic poems with a moon theme. The classics include poems Henry Wadsworth Longfellow (1807-1882) and Amy Lowell (1874-1925) and the traditional American children's rhyme 'The Man in the Moon' is of course also to be found here!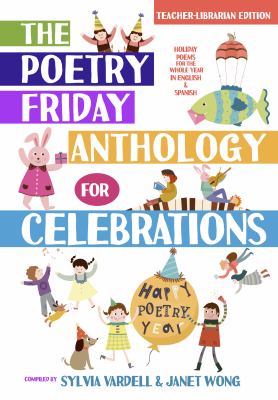 The Poetry Friday Anthology for Celebrations
Edited by Sylvia Vardell and Janet Wong
Pomelo Books; ISBN 978-1937057459
This latest book in The Poetry Friday Anthology series offers 12 poems per month and 12 poems with the theme of Birthdays and Baby Days PLUS Take 5! mini-lessons for teaching and sharing skills and standards such as the CCSS and the TEKS. In addition, each poem is linked to a picture book recommendation and other poems in the book for text-to-text connections. Choose your favorite celebrations for each month!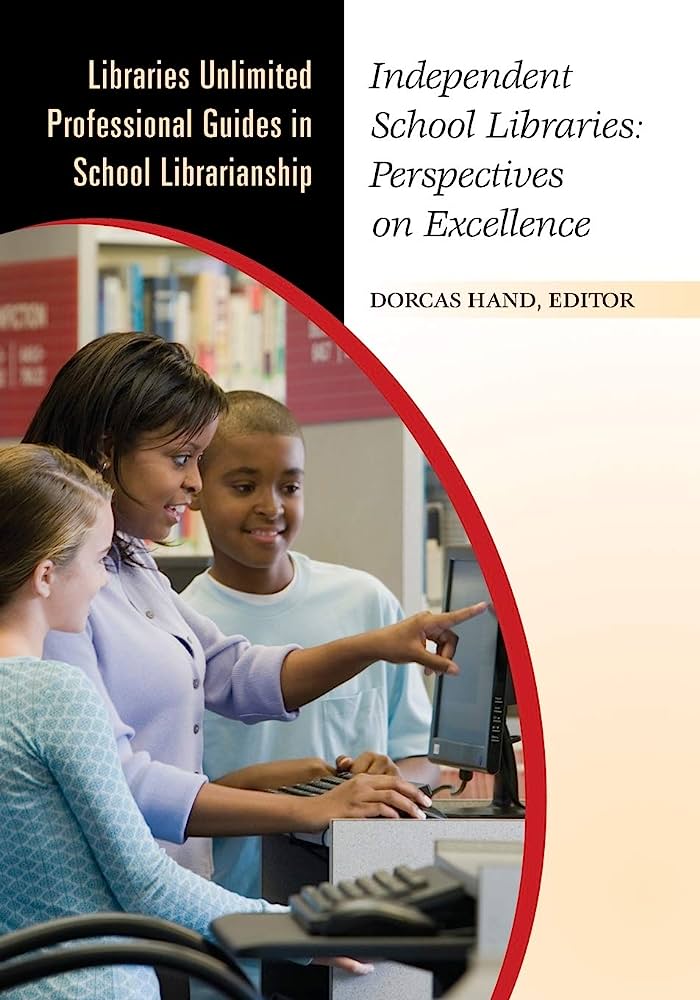 Bloomsbury Academic
ISBN: 978-1591588030
Independent School Libraries: Perspectives on Excellence
Edited by Dorcas Hand
The first book published about independent school libraries since 1985, this work offers both the independent school library community and the broader school library community a wealth of insights into excellence in library practice.

Independent School Libraries: Perspectives on Excellence offers readers insights into best practices in library services for school communities, using examples drawn from independent schools of various sizes, descriptions, and locations across the United States. Two overview essays introduce a statistical analysis of independent schools. Each of the remaining essays provides perspective on a different aspect of library practice, including staffing, advocacy, assessment, technology, collaboration, programs beyond the curriculum, intellectual freedom and privacy, budgeting, accreditation, disaster planning, and more.

Because independent school librarians work across divisions and without a mandate to adhere to state or national standards, they have the freedom to explore and refine best practice in a school library setting. Fortunately, the ideas and methods they have developed, many of which are on display here, can be applied in any school library.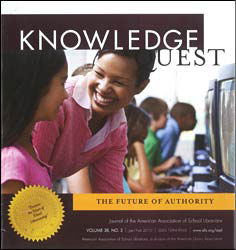 "Evaluating Science Information with Thinking Routines"